FOR IMMEDIATE RELEASE For more information, photos or interviews contact: Jackie@vivid.com or 800-762-4761
Vivid Girl Lia 19 Hardcore Debut
Lia's First Time is internet sensation, Lia 19's first big girl movie. This is just a teaser of Lia dancing around for YouTube. To get her real first time movie from Vivid, go to the Vivid dot com website and look under Vivid Girls
Newest Vivid Girl Lia Launches Adult Film Career with Hardcore Lesbian Scenes - LOS ANGELES -- (January 11, 2010) – Lia, star of the wildly successful Lia 19 website, makes her movie debut in "Lia's First Time" from Vivid Entertainment, the world's leading adult film studio. The newest Vivid Girl performs in hardcore lesbian scenes in the movie, which will be shipped on Tues., Jan. 19th and will be in stores and available online at www.VIVID.Com on Tues., Jan. 26th.
"My website is so popular because I love my fans and I don't hold anything back," says Lia. "That's what my fans expect from me and that's what they'll get in my movies with Vivid. 'First Time' was a fabulous debut movie for me and since I was totally turned on by the other women and you can tell how much we all enjoyed ourselves in every single scene." Vivid Girl Lia.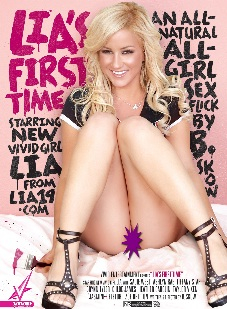 Lia Hardcore Movies
"Lia has taken a very careful approach to her career from mainstream to bikini to nude model and now to hardcore. We know that there's a high level of anticipation about this movie with her millions of fans as we've been hearing from many of them for the past few months. We believe that she'll more than live up to their high expectations," said Steven Hirsch, founder/co-chairman of Vivid.
Directed by B. Skow, the movie also stars actresses that Lia personally selected because of their all natural appeal. They include Sadie West, Ashlyn Rae, Tiffany Star, Brynn Tyler, Chloe James, Heather Carolin, Taylor Vixen, Jasmine Deletori and Zoe Britton. Vivid Girl Lia is the newest addition to a long line of Vivid Girls.
CLICK HERE FOR Hardcore LIA 19 Vivid Girl Movies
Special features of the Hi Def DVD include Chapter Search, positions menu, and a full length bonus scene plus photo gallery.
Vivid Girl Lia
INTERNET SUPERSTAR LIA MAKES MOVE TO HARDCORE AS NEWEST VIVID GIRL
Marks First Time Web Sensation Moves from Successful Single Girl Site (www.lia19.com)
to Make Adult Movies
LOS ANGELES – (August 12, 2009) – Lia, a blonde beauty who is best known to fans of her wildly successful www.lia19.com site where she poses as a fresh faced model, has taken a giant step and signed as the newest Vivid Girl, says Steven Hirsch, co-chairman of Vivid Entertainment, the leading adult film company.
The Scottsdale, AZ native was a mainstream model and is already a web sensation and has tens of thousands of members to her site with whom she feels she has a close relationship. Lia19.com is the solo site of www.FTVGirls.com, a web powerhouse.
"I think one of the reasons that my site is so popular is because I don't hold anything back. Sure, it helps that I look good, I'm all natural, I'm tattoo free and I love my fans," says Lia. I don't take them for granted for a minute however, and really work at making them happy with new, sexy content.
"I'm very excited as to how they will react to my move to hardcore. A few fans may be freaked out about it, in which case I'll tell them it's still me. You're just seeing me in a new light, so give it a chance. I think, however, that most of my fans will be downright eager to see my first film."
Lia says she has been thinking about becoming an adult actress for Vivid for a while, but until recently she was too shy to ask for a meeting.
"After I watched the Showtime series "Deeper Throat" (a reality TV program that told the story of how Vivid updated the concept of the classic adult film) I realized Steven Hirsch might be approachable," says Lia. "A meeting was arranged and he wasn't intimidating at all. I'm so glad I finally got up the nerve to meet him, but more important I'm thrilled he thought I have what it takes to be a Vivid contract actress. Now I'm super–excited about making my first movie with the best company. It will be my first everything on camera and I am going for it because I don't want to have any regrets about not trying."
"We were not only impressed with Lia's enthusiasm to be a contract actress with Vivid, but with her accomplishments as a web entrepreneur," said Hirsch. "She has a loyal following of fans from her site and she's taken careful steps in her career from a mainstream to bikini to nude model. Now that she's ready for hardcore, we're happy to welcome her." Click here for Vivid Girls
Lia, who says she considers herself outgoing, open–minded and easy to get along with, runs through her personal profile: "I'm definitely a girl who is one of the guys. I love sports. I was a swimmer, lifeguard and water polo player in high school. I got into golf while I was modeling and found out I'm pretty good. I think my handicap is around 12 now and If I wasn't pursuing a career in adult, I'd try to get better and earn my living playing golf. Even though I'm from Arizona I'm a diehard New York Giants fan and I'm always wearing my grungy old Giant jersey. I watch ESPN and the Discovery and History Channels. I'm a gamer (favorite game: 'Resident Evil'). I operate my own business and even photograph the models for the website. On the other hand, I love being a girl, love to shop and collect Coco Chanel clothes and accessories."
She says she prefers dating older men because they "have confidence, which is very appealing to me. They don't have to be that much older, but they have to show me that they're in charge. If I had to choose between a lineman or a quarterback, it would be the lineman every time. I don't like pretty boys and I'm turned on by a kiss on the back of my neck. I'd love to have sex with Jeremy Shockey of the New Orleans Saints––if he was interested."
"Lia is young, gorgeous, sexy and a web superstar. She's already an iconic presence in her respective niche and I'm thrilled about her doing hardcore. I know that she will be a huge hit on www.vivid.com. She's going going to make a great Vivid Girl," said Eric, operations manager for Vivid at Webquest.
Looking ahead Lia says "My goal is to leverage my time with Vivid into building a bigger web presence. I've built a great foundation for my company and I want to add to it. I earn a good living but really wanted to try the adult movie business and it had to be with Vivid or not at all."
About Vivid:
Founded in 1984, Vivid Entertainment Group is the world's leading adult film company and is celebrating its 25th anniversary this year. Vivid has always placed heavy emphasis on high quality erotic film entertainment and has created wide brand-name awareness through its films, TV series, innovative marketing and a licensing program that extends to advertising, apparel, book publishing and a range of other products. The studio's website www.vivid.com has a large and loyal following of fans of the Vivid Girls. For more information contact Jackie@vivid.com.